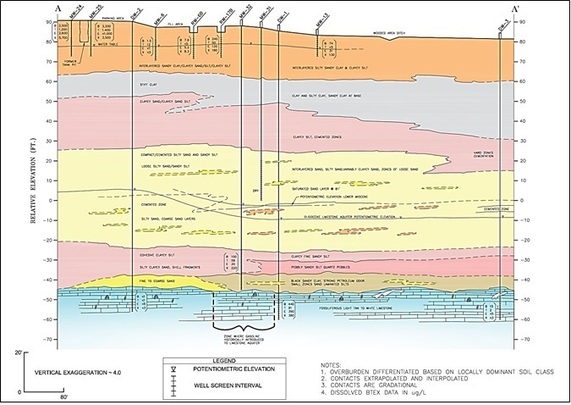 Maintenance Facility

NassCass Services performed hydro-geological analysis, soil and groundwater assessment, tracer testing, risk assessment and remediation services at a Maintenance Facility in Sylvania, Georgia in a multilayer complex aquifer system including karst.
The site is located in an area of average groundwater pollution susceptibility in the eastern-central Coastal Plain physiographic province. Four distinct aquifers are present in the artesian aquifer system of the eastern Georgia Coastal Plain: the Jacksonian Aquifer (top), the Gordon Aquifer, the Dublin Aquifer and the Midville Aquifer (bottom). Within the study area, the Jacksonian aquifer is overlain by a sequence of clay-rich undifferentiated Miocene sediments. These sediments overlie undifferentiated Oligocene limestone. Site stratigraphy is characterized as a sequence of interbedded to inter-laminated clays, clayey sands, clayey silts, with some lenses of loose sands and silts. The overall dominant color of the sediments is blue gray and the sequence is dominated by clay. The 125 ft. to 135 ft. thick unconsolidated material overlies fossiliferous white to buff limestone, likely Oligocene in age.

---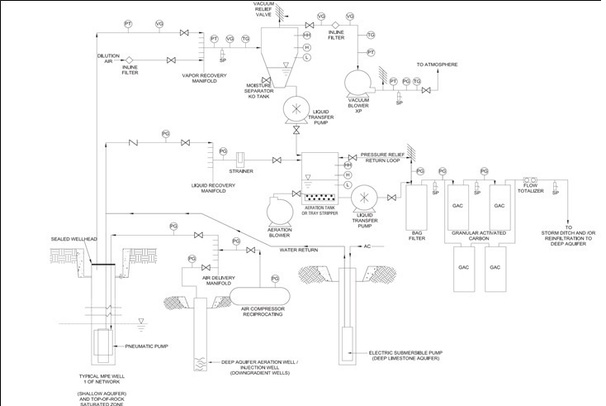 Because no public water supply is available, the numerous residences and businesses in the immediate vicinity have their own water supply wells. Sometime in the 1990's, a gasoline release occurred from the subject site, traveling along the shallow water table to a down-gradient water supply well. Although the water supply well was cased into the deeper limestone aquifer, the casing seal was not competent, resulting in seepage of free product gasoline from the water table aquifer along the casing to the underlying limestone aquifer. After fully characterizing the complex hydro-geologic setting at this site, NassCass implemented a Pump-and-Treat with Recirculation (P&TR) remedial strategy which is best characterized as a source-removal and risk-reduction action. In addition, one in-use residential well was replaced with a new water supply well in an uncontaminated area.

Over the two year remediation program, over 36,000,000 gallons of contaminated groundwater were removed from the limestone aquifer and treated to applicable levels. A substantial quantity of treated water was recirculated by infiltrating the water within an intermediate level well, resulting in flushing of the most contaminated portions of the soil aquifer immediately above the limestone aquifer. Following completion of this remedial action and confirmation monitoring, EPD issued NFA for the site, and all system components were decommissioned

---